When it comes to ensuring the success of your business, paying extra attention to your accounting and bookkeeping is vital. Outsourced bookkeeping services in Gilbert, Arizona are gaining a substantial foothold among today's small business owners. But whether you've been thinking about outsourcing for a while now, or are considering it for the very first time, you may find you're reluctant to take the leap; especially where your finances are concerned.
What is the Purpose of Outsourced Bookkeeping?
Outsourced bookkeeping services are essentially designed to increase both your efficiency and your business profits. An outsourced bookkeeper or bookkeeping service can handle any and all of these tasks:
Explaining Company Financial Statements

Producing Accurate Financial Reporting

Prepare Company Taxes

Tracking Outstanding Bills / Invoices
How Can Outsourced Bookkeeping Help My Business?
Outsourced bookkeeping can help you improve how your business monitors your company's cash flow. With the enhanced monitoring skills of an outsourced bookkeeping service, new goals can be set to avoid a cash shortfall in your business. Some additional benefits that an outsourced bookkeeping service can provide includes:
Elimination of 'Insider Bias'
Lower Chance of Reporting Errors
 More Time to Focus on Achieving Business Goals
Minimizes Cost of Hiring an In-House Bookkeeper
Outsourced Bookkeeping Services: 5 myths to be aware of
Often regarded with indifference, confusion, or even outright fear by many entrepreneurs, the misunderstandings and misconceptions surrounding outsourced bookkeeping services prove to be far from true.  Let's look at some of the most prevalent and persistent myths surrounding bookkeeping services and whether outsourcing is right for any particular business.
Myth #1: It's Just Data Entry
Bookkeeping does entail a considerable amount of data entry, however, the bookkeeping profession does much more than that. Individual duties from company to company may vary, but in general, bookkeepers also reconcile accounts when discrepancies arise, produce financial reports for management, check the accuracy of the entries, and even contact suppliers and customers to pursue payments, refunds, or communication problems with the financials. Bookkeepers may also be one of the first people to know that a potential future issue is arising with the help of the financials, and is responsible for alerting management.
If you are paying for outsourced bookkeeping services you will be happy to know there is plenty of more substantive work performed by bookkeepers other than just data entry. In some organizations, bookkeepers might have quite broad authority to deal with reconciliation and suppliers or customers. In smaller businesses bookkeepers often have broad authority to deal with reconciliation, suppliers, and customers.
Myth #2: I Can Do it Myself
In case, you have made up your mind to do bookkeeping on your own without taking help from a bookkeeping service provider or choosing to have an accountant review your work; you must ask yourselves these questions:
Are you an expert in bookkeeping?
Will it cost you more to have your work reviewed by an accountant?
Although bookkeeping may seem simple, it is absolutely vital to the survival and success of a company, and mistakes can be extremely costly. If you are managing your books and it seems like a daunting task that is constantly put off,  that may be a sign that outsourced bookkeeping services need to step in. Additionally, in many situations, it would be a better choice to have an accountant do bookkeeping as compared to having them review your work.  Many accountants may not even agree with fixing the errors they find.
Myth #3: Outsourced Bookkeeping Services are Expensive
The very common myth that people believe about outsourced bookkeeping services is that hiring a bookkeeper is expensive. This is not true. In fact, an accountant can help you save your money as well as your time with efficient accounting and bookkeeping services. Bookkeeping services are designed to help your company grow and make better business decisions, and the benefits of outsourced bookkeeping services are well worth the costs.
Additionally, hiring an in-house bookkeeper will cost your small business significantly more. You will be paying a full-time salary plus benefits as opposed to outsourced bookkeeping services where you just pay for the time you need.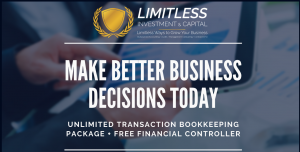 Myth #4: Security Will be Violated
Because of the confidential nature of a company's accounts, it's only natural for business owners to worry about the security of their financial information when they share their books with an outside accounting company people often think that outsourced bookkeeping services might violate their private information and security. But this is not true. A professional tax and accounting firm never disclose your confidentiality at any cost. They are bound to maintain a privacy policy. So, you don't need to be worried that confidential data will be disclosed if you outsource it.
It's important to keep in mind, however, that no data is technically 100% safe – whether it's online, offline, or jotted down in a notebook. The security measures employed by established accounting services are based on the most up-to-date technology available, and the bottom line is that you're as likely to experience a security breach within your own home or office environment, as you are when doing business with a qualified outsourced bookkeeper.
Myth 5: Bookkeepers are Only Needed During Tax Time
Filing small business taxes can be very confusing and many owners only have a single source of income, don't claim any exemptions, deal with credits, or itemize. Imagine the headache outsourced bookkeeping services would get from trying to organize a year's worth of data from a business that disregarded proper recording the whole year. And if a single transaction was improperly recorded somewhere in the middle of the year, the headache multiplies significantly, as does the time required to organize and reconcile. Thus we meet our final myth that outsourced bookkeeping services are only useful during tax time.
Certainly, bookkeepers are useful during tax times but make running your business much easier if they are employed year-round in order to ensure proper record keeping. Paying for outsourced bookkeeping services a few hours a week is better, smoother, and less stressful to the tax-filer than paying for 100 hours in a two-week period before the filing deadline. Additionally, accurate bookkeeping and tax preparation all year round ensures fewer mistakes and maximizes deductions.
Where Can I Find an Outsourced Bookkeeper? 
Using an outsourced bookkeeping service can help improve your business's financial position. Finding the right fit for your business can be difficult, as there are many different types of outsourced bookkeeping services, but there may only be one right fit. Here are some factors to keep in mind when it comes to looking for an outsourced bookkeeping service:
Look for a Candidate with Experience in Your Industry

Has Attention to Detail

Ask for a Referral From a Trusted Source
Final Thoughts
If you run a small or medium business, bookkeeping is crucial to your growth. Mismanaging accounts leads to unhappy tax collectors, suppliers, and even customers, especially those who are awaiting refunds. Mismanagement can quickly snowball into a business crisis if left unchecked, which may be overlooked more easily than you think.
Eventually, a growing business will need to hire a bookkeeper to deal with the sheer volume of transactions. For those on the cusp of needing one, outsourced bookkeeping services are a great place to start. Small business owners must ultimately determine this for themselves, but the concept stands true: bookkeeping itself is critical to the health of the business, and bookkeepers will alleviate any pressure to manage the books alone. Don't let the common misconceptions surrounding outsourced bookkeeping services stop you from investigating your options further.
Limitless Investment and Capital's Outsourced Bookkeeping Services in Gilbert, Arizona
When you outsource your bookkeeping you gain more than time back. You will save money over time compared to an in-house bookkeeper, as well as gain the support and knowledge of the entire Limitless firm. Your accounting and bookkeeping do not need to rely on one or two people. It should get the attention of dozens so that you do not have to worry about mistakes, errors, or misstatements. It's time you outsource your bookkeeping obligations and work on your business, not on it. Let's get started!