Are you running your own business? You may be one of the small business owners that love going over your books to ensure financial stability in your business, or you may be an owner that does not totally understand how it works. Either way, one of the most vital things for a small business is sound bookkeeping practices to ensure your business is healthy. Outsourced bookkeeping services for small businesses have the knowledge required to keep your accounting and bookkeeping processes running smoothly if you do not.
Without a proper bookkeeping system in place, unpleasant surprises can op up, goals can be easily missed and important paperwork is forgotten. Having a handle on your money can help you accurately plan long-term goals, account for seasonal ups and downs of cash flow, and even improve your profits.
Many of the most successful business owners in the world contribute part of their success to excellent record keeping. They track every expense and every deposit that the business incurs so as to minimize unnecessary costs and hence lower the cost of running the business. Additionally, record keeping helps your business come tax time and can help your business stay out of trouble with the Internal Revenue Service.
Here are five bookkeeping tips for small businesses:
1.Automate Whenever Possible
This year, make a crucial change to your business operations and switch to computerized bookkeeping and accounting software. If you are using a manual accounting system, on paper or in Excel, you are wasting time and even putting your company in jeopardy.
Using a software accounting package will save you tons of time that would have been spent on tedious calculations. Once you've learned the basics, it's infinitely faster to look up past transactions and data and to run reports for loan applications or taxes. Additionally, Having a computerized system means fewer mistakes. Most systems can sync with your bank accounts, so you can make sure all entries are correct and capture every expense item.
It's simple to generate reports with real-time data on the state of your business's finances. Depending on the program, you can create checks, invoices, and budgets with the click of a button. Outsourced bookkeeping services for small businesses can easily get your small business set up and running with bookkeeping software. Companies such as Limitless Investment and Capital even offer an unlimited transaction bookkeeping services package that includes access to outsourced controller services.
2. Relentlessly Track Your Business Invoices
As the business owner, you are aware that late or unpaid invoices will directly hurt your cash flow and interfere with the general running of your business. In fact, 82% of small businesses fail due to cash flow problems. Having an inventory management system is important to make sure your clients are paying, and some basic rules such as not letting your clients order materials until they have paid for their previous order will help you easily track payments.
Another way of dealing with unpaid or late payments is to set deadlines for every client that you extend vendor credit to such that in case of failure to meet the deadlines, a penalty is charged on the amount that the business owes them. Therefore, it is good not to allow bad debts to accumulate for your business.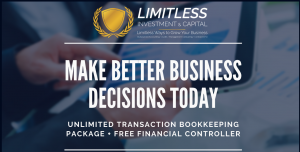 3. Do a Weekly Checkup
At the end of each week, take a look at your bookkeeping and accounting records to make sure everything is balanced, all invoices are paid, and no checks were bounced. One of the best bookkeeping tips for small businesses: Review your books at least once a week. It will help ensure everything is in good shape.
It is crucial to look for trends, such as growing or declining sales, year-over-year revenues, or an increase in late-paying customers. If you are unsure how to spot these talk to your accountant. He or she can help you look at the big picture so you're better prepared for future capital needs such as buying new equipment or moving to a bigger location. Talk to a Limitless Investment and Capital CPA today.
4. Plan for Major Expenses
It can be hard to foresee every expense coming your way, but if you can plan and prepare for major costs, you'll be in a much better place long term. You're less likely to miss business opportunities or have to scramble for a loan when the expenses become unavoidable. Put events like a major computer upgrade on the calendar a year in advance or, ideally, three to five years ahead. Acknowledge the seasonal ups and downs, something many entrepreneurs are reluctant to do.
Build in a contingency plan, where you forecast for large expenses, such as inventory, supplies, maintenances, staff costs and tax on a regular basis. A large part of bookkeeping is managing your money well, so you set your business up for success long term. Additionally, with changes to business tax reporting for 2018, you may want to consult your accountant to see exactly what kinds of expenses you will be able to deduct next year. For anything, you plan to claim on your tax returns, be sure to keep detailed records, including receipts.
5. Research your tax requirements
Small business tax requirements differ greatly to individual income tax, so it's important to know your obligations. If you expect to owe when you file your taxes, plan ahead and set aside funds to cover your anticipated bill and avoid fines by paying on time. Keeping accurate bookkeeping records of your spending and expenses from the start, including proof of purchase, will increase your chances of claiming deductions during tax season.
The IRS can levy penalties and interest for not filing quarterly tax returns on time. We suggest putting a portion of money aside throughout the year for taxes. Then note tax deadlines on your calendar, along with prep time if you need it, to make sure you actually make payments when they're due. Penalties from the IRS could be the demise of your small business, and we strongly advise consulting with a Limitless Investment and Capital CPA if you are unaware of your tax requirements.
Limitless Investment and Capital Bookkeeping Services for Small Businesses
Running a small business is hard work. Limitless Investment and Capital offers an unlimited transaction bookkeeping services package to ensure your small business is in tip-top financial shape. Our unlimited transaction bookkeeping services package includes access to a part-time financial controller to assist your company in the areas it needs the most help. Consult with a Limitless Investment and Capital CPA today!